My main concern when carving for public viewing is that the sculpture should reflect some aspect of the area in which it is situated. Hence the owls on the Owl Tree.

Totem Pole
When I was commissioned to carve the tree-stump on Richmond Street, I was aware that many households had cats and I conceived the idea of carving a sort of cat totem pole.
I contacted the residents in the street and asked them if they would be interested in participating in the design process. I asked for their favourite images of their own cats as inspiration for the carving.

Residents' cats
Five households sent me pictures of their cats:
Barbara M Day sent me pictures of Jemima and Midge
John and Alison Koser send Alie and Polly
The Sedman Family sent Splodge
Dian and Craig sent Angus and Lemmy
Tonya and Mark sent Leo and Elvis

Cat portraits
I have tried to use their photos more for body positions than as portraits. I am very grateful for their participation because it provided a starting point for me. I was working with images of cats that were local, loved and known, rather than doing my research from books.

Friends indeed!
Diane and Craig lent me their ladders, which made the job so much more feasible. Fourteen feet might not seem high, but it does to me when I'm bashing away with a mallet.
Tonya and Mark kept me going with drinks - non-alcoholic, I hasten to add! and visits from my grand-daughter.

The tree itself often suggested the poses. When the bark was taken off, the revealed surface of the tree nearly always prompted the next cat. I had a lot of help removing the bark from a good friend, John, who loves working with wood. And also from a joiner/musician, Reice, who wanted to help and to be part of creating the sculpture.
Back to top
&nbsp
It was hard work!
The lime tree stump was considerably higher than I was originally expecting, being more like 14ft than 8ft-10ft. So I knew I was in for a lot more work than with the Owl Tree.
Each session of carving has been interesting - people stopping to chat, comment from passing cars, changeable weather, chisel handles cracking and giving up the ghost due to prolonged wear and tear.

I had two new handles made specially for me by a very nice man from the Wood Shop in Cottingham.

I found that 2 hours sculpting hardly yielded any visible results, but 5 hours did.

Colouring the cats
I decided to stain the wood, using three or more different wood stains, to emphasize the differences in the cats and also to tie in with the totem pole idea.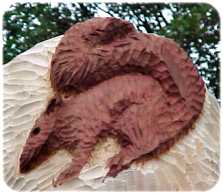 The squirrels at the top of the tree also catalogue an incident that actually happened while I was there. A squirrel came skipping along the path, all the way from Park Avenue, and it was only when it got level that Elvis, a ginger tom, saw it and they both scattered up a tree opposite. The squirrel zipped up high but Elvis was left like a 'Garfield' about 6ft up.