On Friday, 17 November 2000, at 2.00 pm, the spoof fountain in Park Avenue was formally declared open by Ken Balkwill.
Although the afternoon was bright, it was cold, so we were very pleased to see the large number of local residents who turned out to give support and sign our petition. By 4.00 pm over 70 signatures had been collected (and we are continuing to collect them).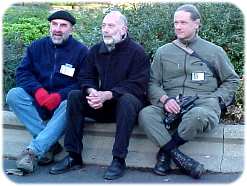 The Fountain Rescue team had been hard at work from 11.00am, putting the fountain together, walking it through Salisbury Street from its workshop to the fountain base in Park Avenue, and finally securing it with sandbags and guyropes.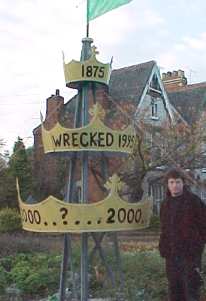 Councillor John Robinson.
We welcomed Councillor John Robinson, and thanked him for his interest.
The Hull Daily Mail was there too, so a report should be appearing in Saturday's paper.
Radio Humberside ran an interview with the Rescue Team this morning at 8.10 am.