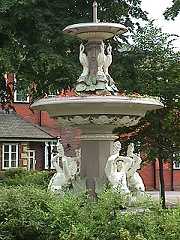 Originally six ornamental fountains enhanced the area. Now, two have been restored: in Westbourne Avenue, and Park Avenue
November 1995 Park Avenue fountain demolished by a car driven into it. Driver not charged -Why?
Two weeks later, the 'sister' fountain in Westbourne Avenue is also damaged by a car.
Both are 'listed monuments' the City Council is obliged to repair or reinstate them.
The Council promises to do this.
Driver of the demolition car denies liability, case goes to Court. - Why not charged at the time?
The council settle an insurance claim for damage to the Westbourne Ave fountain.
A specialist firm from Chesterfield is called-in to do the work.
Opportunities to anticipate repairs to the Park Avenue fountain not taken. Why not?
Westbourne Avenue fountain is repaired.
Cost of Park Fountain now estimated to be 150% of original estimate at time of damage- delay costs money, our money.
Internal wrangles within the Technical Services Dept mean that the person responsible for 'listed' monuments is taken off the fountain case (still off - why?)
Council settles out of Court for approx £95,000 - leaving a massive shortfall - Why settle for so little?
Letters of protest to Cllr. Doyle are met with positive response, "The matter of the fountain I will take up with the appropriate officer, as there should be no problem at the moment with regard to money.."(6th March 2000) or "Please be assured that work on the fountains has not been halted, but is being progressed.." (31st March 2000)
September 2000 - Cabinet Committee decides to defer spending on the fountain due to other priorities - Why, when the City has funds to improve street furniture and is awash with telecom cash?
3rd October 2000 - Council allocates £25,000 (our money!) to up-rate the councillors' urinal at the Grade II-listed Guildhall. Obviously the 'right sort' of fountain!
Do they listen? Do they really care? Is it moral to 'keep' the insurance money and do nothing? Can anyone else responsible for the up-keep of a listed building get away with this sort of behaviour?
If you think the Council is behaving badly, ring them and tell them so. Write to your Ward councillors and especially to Cllr. Doyle.