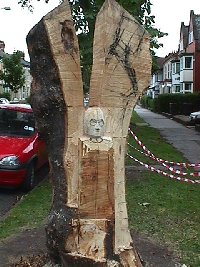 Click the picture to see the Day 4 thumbnails
"Hull's Angel"
Day 4 - Thursday, 10 September 1998
"We're no angels"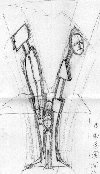 Today, Kevin made a decision.
Originally, he was going to sculpt a family group. But a different shape now seems to suggest itself: he's creating an angel.
There are practical reasons too: the nature of the wood (very hard, with lots of knots), and the presence of some rotten wood which would make it very difficult to carve the male figure's head.