Day 1 - Monday, 7 September 1998
It's started!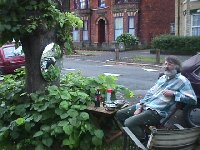 No chainsaws allowed today - Health & Safety decrees that chainsaws should only be used when kids are back at school.
So, we improvise a ceremony. A sacrifice from the sculptor to the tree. Before he lays hands on it, Kevin will shave off his beard.
Then Alan Worsley and Kevin will breathe fire in homage to the dryad of the tree before volunteers help him to strip the tree of its remaining branches and shoots.
Click the picture to see what happened ...
---